Biography
---
Impact of His Work
---
Generalized Harmonic Analysis
---
Related History
---
Photo Gallery
History
Józef Marcinkiewicz & Antoni Zygmund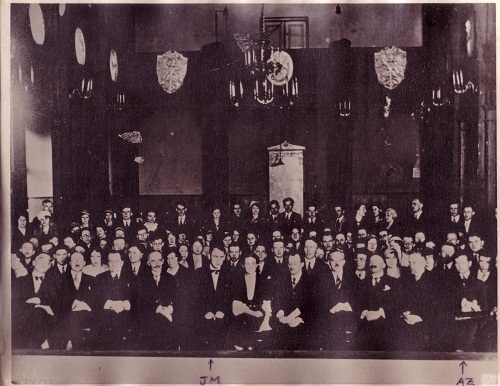 The original of this picture has been stored in the archives of the Mathematical Institute of the Polish Academy of Sciences at the Gdansk branch in Sopot. The picture was taken in 1933 on the occasion of the 11th Math-Phys and Astronomy Student Circles Meeting in Vilnius (May 25-28, 1933). It was a national event. The photo was taken in the Congress Hall at the Vilnius University.
Revista Matemática Cuyana
These are the only volumes of the journal, Revista Matemática Cuyana, of the Instituto de Matemática of Mendoza, Argentina. Authors include (in order of appearance) O. E. Villamayor, M. Cotlar, S. Sispanov, R. Ricabarra, H. Zarantonello, A. Monteiro, O. Varsavsky, N. Wiener, A. Wintner, and V. W. Blaschke.
Volume 1 (part 1)
Volume 1 (part 2)
Volume 1 (part 3)
Volume 2 (part 1)
Volume 2 (part 2)
Archive of Arne Beurling's Work
Uppsala University Website - Michael Benedicks and Mikhail Sodin (coordinators)